Swim & Snorkel With The Whale Sharks
The season is over 14th September
"The largest known extant fish species"
Be part of one of the biggest whale shark migrations in the world
PRIVATE TRANSPORTATION (Pick up at your hotel - Drop off at your hotel)
Pick up time: 4:45 am
Drop Off time: 3:00 pm
Actual Duration: 12 hrs.
Max. Capacity: up to 8 people on boat, transportation is private
Pick up points:
Tulum, Playa del Carmen or Cancun
Prices

Per Person

US $215.00 pp
The Journey
If you love the nature and the kind of experiences that make you feel closer to it. This is the perfect tour for you! You'll be amazed to be sharing that moment with this beautiful and imposing animal. The feeling of being too close to them will be something that you will never be able to forget.
Our experience starts at 4:45 a.m. when we pick you and your chosen ones at your hotel. You will enjoy the road trip to Cancun in our luxury SUV and with a morning box lunch.

When we get to Cancun, our motorboat will be waiting for us at 6:30 a.m. in order to go out before other operations and have more time with the whale sharks.
We do a 1.5-hour boat ride to the Whale Shark Federal Reserve.
Our Skilled Guide will be with you and your group during the whole experience. Making sure you have the best adventure of your life in the ocean.

You don´t need an advanced or diving equipment, the water is perfect for swimming face to face with this amazing creature, this will be something that you definitely cannot believe.
Remember that this is a unique experience! Where Mother Nature is giving us the chance of been part of this incredible moment.

So breathe, smile and jump into the ocean to live the most incredible experience ever!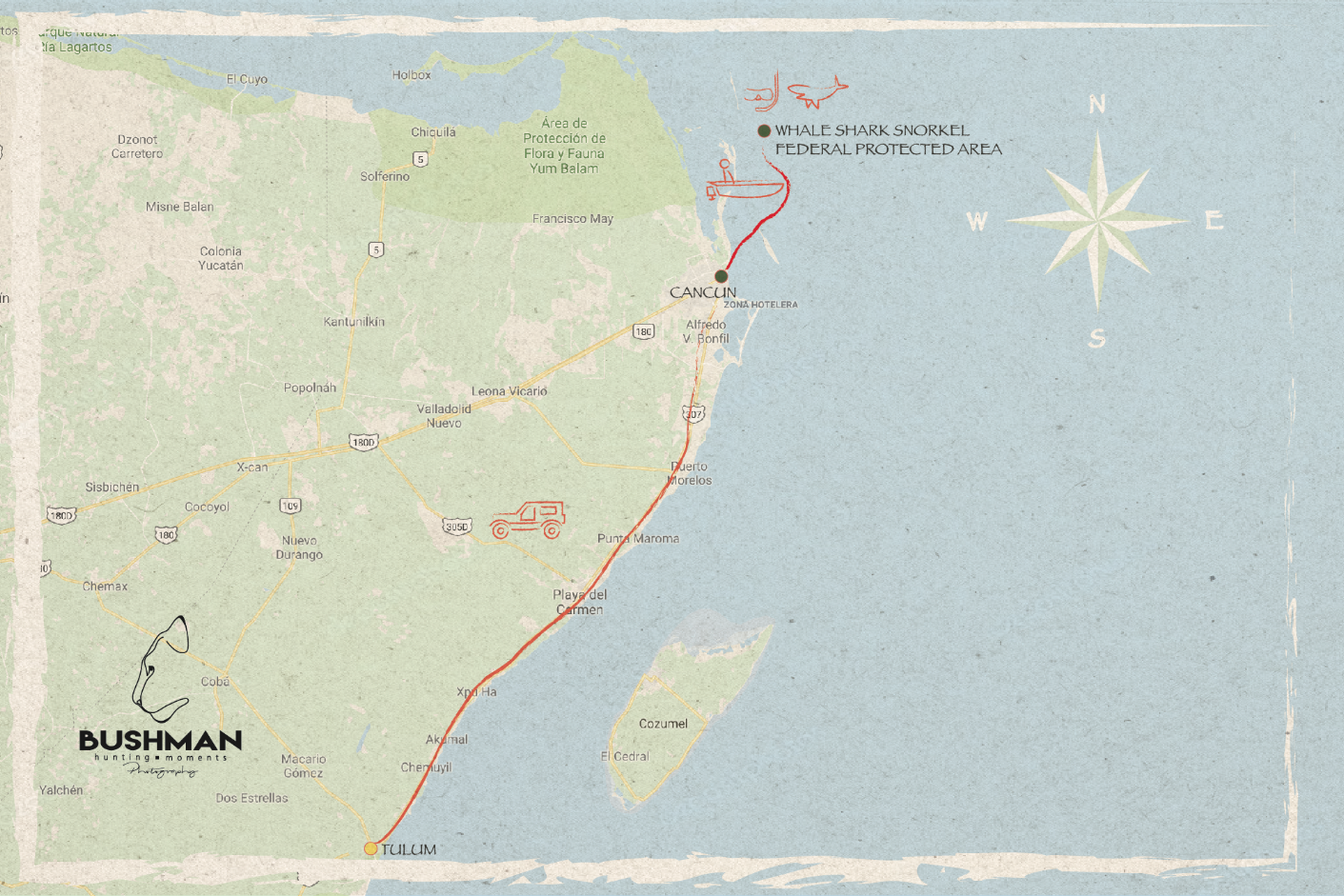 About Whale Shark
When is the best time to snorkel with whale sharks in Cancun?
You can start coming from May 20th to September 15th, but being July and August is the best time to see the whale sharks.
Where Is the Whale Shark Snorkel Area??
This Whale Shark snorkel tour is inside the
Federal Protected Area
.
We want to give you the best service, so you should know that is not easy to get the permits to work in this area, that's why our team have the obligation to take different courses and exams.
You can be sure that all of our boats are in perfect conditions.


How big is the whale shark?
As the largest fish in the sea, reaching lengths of 40 feet or more!

Are whale sharks harmful?
No, whale sharks are very passive with humans, they even sometimes become curious when we're swimming near them.

Can I touch the whale sharks in the whale shark?
The whale shark is not dangerous, but like any animal, it can be uncomfortable for them, if we get too close, so we do not want them to become nervous with our company. That's why one of our rules is not to touch the whale shark.


Are whale sharks dangerous to humans?
The fact that whale sharks are the largest of all sharks leads many people to believe (incorrectly) that they must be extra dangerous! But you should know that they are very calm fish. You are absolutely safe swimming with them.

Remember, we are very lucky to be able to live this amazing experience, please be very respectful of the animal and his environment. We have 5 simple rules to make it a very good experience for all:

Don't touch the whale shark
No flash Photography
Don't throw any waste to the ocean
Biodegradable sunscreen mandatory
Flotation device mandatory


Highlights
This is a unique opportunity of swim whit the enormous but harmless biggest fish in the world

This is an incredible wildlife encounter

This is an awe-inspiring sight and one that wildlife watchers shouldn't miss
The workshop includes:
Private transportation, luxury SUV
Professional guides
Snorkel equipment
boat service
Water, soda, fruit, snacks, sandwiches
Advantages of the tour
Personalized attention
Biologist or natural guide
You contribute to develop local communities
How to book
Select your desired Photographic Safari
You can pay with Credit, Debit and Paypal. Just Click at the end Paypal and choose your option
Choose a date in the panel.
If no space is available on the desired date choose the next day in a green box.
Select the Qty of Child and Adults. (Minimun 2 pax)
Fill in the booking form. And be very specific on your Pick up Details.
You must contact Bushman Staff immediately after booking to confirm your reservation and arrange transportation. Use the contact details on the voucher received by email.
Please send us an email or whatsapp us (+52 1 984 169 22 92) for any questions.
Searching Availability...