Cenote, Mayan Vilage
&

Monkey Sanctuary / Virgin Lagoon
Photosafari - Private Tour
This half day experience is designed to present you
the most amazing locations

carefully chosen away from crowds.
Our aim is to raise your awareness and spark your creativity. You will learn skills to improve and expand your photographic technique in general on an intimate adventure through with the Mayan Culture.
Pick up time: 12:00 pm
Drop Off time: 7:30 pm
Actual Duration: 8 hrs.
Private Group: up to 8 people
Pick up points:
Playa, Tulum, All Riviera Maya
Prices

According to a private group size

From US $160.00 / Child US $70.00 pp.
The Journey
This workshop+tour is designed for those who prefer a late pick up. We pick you up at your hotel/site at 12:00 pm and our first visit will be diving into the depths of a Cenote to uncover the mysteries of age-old caverns.

Then you will have a first person encounter in a native Mayan Village that will give you a taste of sincere Mayan generosity.

Enjoy the pristine waters of a Virgin Lagoon and walk through the jungle in a wild Monkey Sanctuary.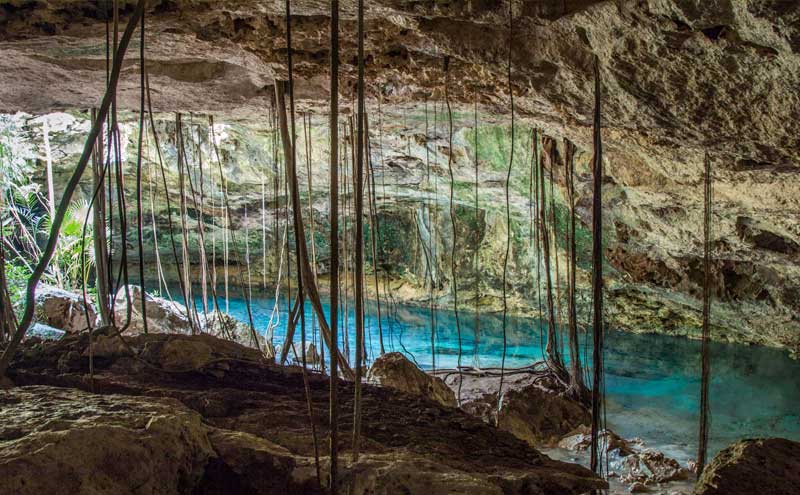 CENOTE
The Cenote we carefully choose is one of the most beautiful and virgin underwater caverns in the peninsula. This natural pit or sinkhole is the result of the collapse of limestone bedrock that exposes pure groundwater underneath. Major Maya settlements required access to adequate water supplies, and therefore cities, including the famous Chichén Itzá, were built around these natural wells. Some cenotes played an important role in Maya rites. Believing that these pools were gateways to the afterlife, the Maya sometimes threw valuable items into them.
The clear water is perfect for a nice and refreshing swim. "Dare to do it!" We will provide you with all the Snorkeling Gear for the underworld exploration. We will swim through the underground rivers and enjoy the light and shadows over the turquoise water, and the contrasting scenes of spectacular flora and fauna living on their high walls. We will take pictures focusing on light and practice long time exposures.
MAYAN VILLAGE
Enjoy the warm hospitality of a Mayan family in their own house and learn about their history and socially segregated culture. This first person encounter in a native village will give you a taste of sincere Mayan generosity. You and your companions will get to know their way of life, the colors, artifacts, ingredients, aromas, knowledge of medicinal plants, religion and more.

We will enjoy their culture and find local goods and handicrafts. All this will add an intimate range of subjects for our photography. Portrait photography will be our focus.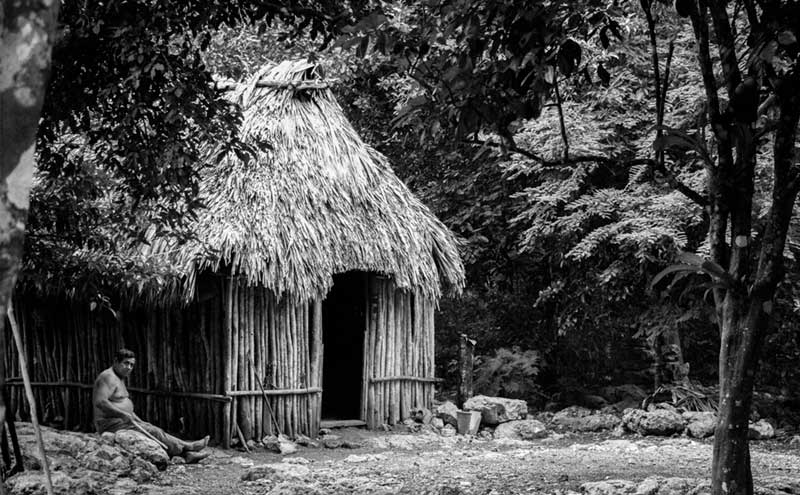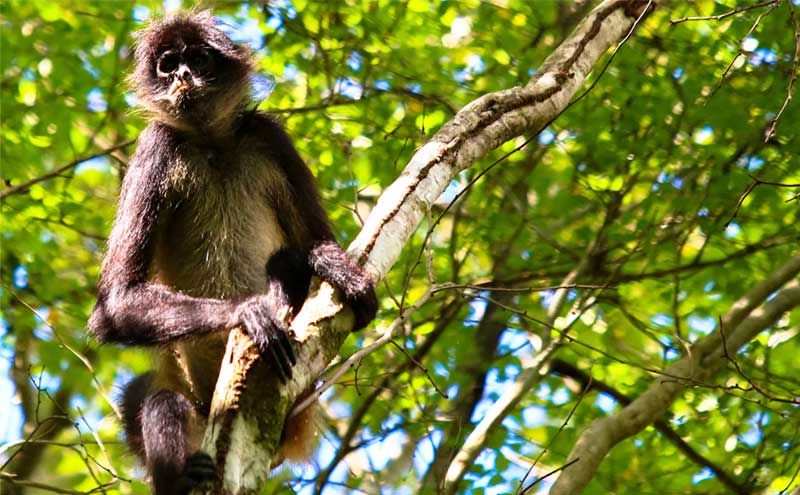 JUNGLE - MONKEY SANCTUARY
Few places offer such a spectacular variety of natural environments as the Mayan region. The main reason for the incredible exuberance of animal life in the area is the lack of major human settlements. The absence of man has allowed the character of the landscape to remain practically unchanged for centuries. Hiking through the Jungle with an expert Naturalist Guide will disconnect you from our Western style of life and "Connec"t you with "Who" we really are.
VIRGIN LAGOON
What a better way to end up the day, embrace yourself with a beautiful sunset sitting on a deck and drinking wine. If you want, we will have canoes waiting for your ride. Take the time to explore the unknown as you learn to take outside photographs, all you have to do is pick your companions and choose a date, let us take care of the rest.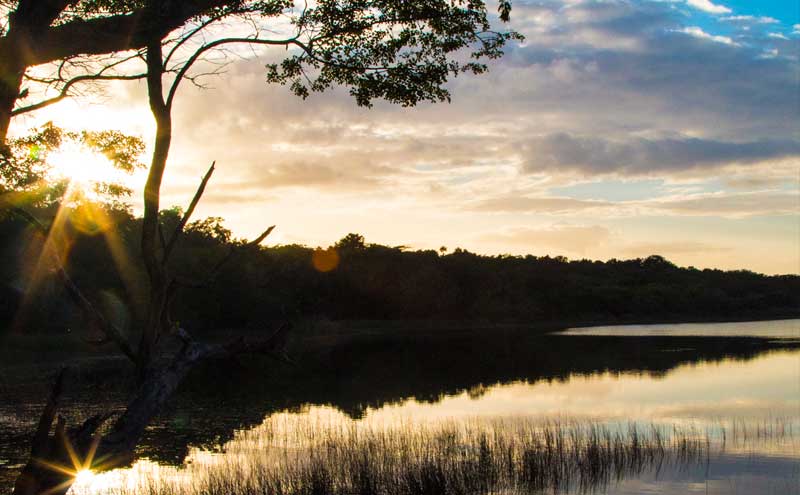 Highlights
Your own photos at the same spot where the winner of the 1st Prize in the World Cup Photo contest is creating his new series. Pepe Soho Photography

A Photo Shoot from a professional photographer during the experience.

See the beautiful underwater caverns from a different perspective with the best light.
The best portrait photos in the intimacy of a Mayan family.

A fascinating feeling of talking outside wildlife photography in a Mayan Jungle. 

We offer only private tours.
The workshop includes:
DSLR reflex Canon Camera with two lenses and memory card
Bilingual professional photographer / naturalist guide
VIP Transportation – Pick up and drop off in your hotel
Entrance fees to the different sites
Medical Insurance
Know before you book
Children under 8 are not allowed
Children from 8 to 15 have a special rate.
If you have a heart condition, you should not participate.
f you are pregnant, may not take part.
Maximum private group size is 8 people.
You must be able to walk on unpaved or uneven terrain.
How to book your private tour.
Select your desired Private Photographic Safari
Choose a date in the panel.
If no space is available on the desired date choose the next day in a green box.
Select the Qty of Child and Adults. (Minimun 2 pax)
The prices goes lower when the Qty increases
Fill in the booking form. And be very specific on your Pick up Details.
You must contact Bushman Staff immediately after booking to confirm your reservation and arrange transportation. Use the contact details on the voucher received by email.
Please send us an email or whatsapp us (+52 1 984 169 22 92) for any questions.
Searching Availability...
Unique Experience
This was an excellent tour that lasted 12 hours and was extremely unique. After doing research into the best activities for my girlfirend and i, I stumbled upon Mario's company. Mario supplied us with our own professional grade cameras and taught us to use them so that we could keep the memory sticks ourselves (…) extremely personal experience that allowed us to keep the memories forever.
I HIGHLY recommend using Bushman Photography if you do not want to get stuck in a huge group of tourists, doing cliche things (…) The food provided was also a pleasant surprise. 5/5 would reccomend to anyone.

"Experience this unique photo safari. Highly recommended."
It is a great choice for a different trip. I knew nothing about nature photography and learned a lot, I even have a couple of photos that were incredible. My girlfriend who had more knowledge, learnt new techniques and reaffirmed what she already knew. We met in a single day; cenotes, incredible ruins, the jungle, walked Tulum and take a boat in booking Siankaan to finish on an island. In each place we took spectacular pictures of animals, landscapes, nature and people. We were lucky to see a sunset with hundreds of birds flying above us. The tour includes lunch and took us to a very nice restaurant open, spectacular air in Tulum. Mario was an exceptional guide with the patience to teach about photography, in my case and in the case of my girlfriend much support and shared their knowledge and tips. I recommend it.

Awesome experience!
We we able to access Chichén Itzá before it was open to the public. I have to say that this was a magic experience for me and my wife; the peace, the quietness but at the same time the voices of the jungle were there.
I definitely recommend taking a tour with this guys. Our guide was an expert both on the touristic sites and I'm shooting outdoors.
A perfect 10

"A wonderful day"
I went with my husband and two friends to tour the cenote and lagoon. Besides having learned a lot about photography, we visited magical and non-touristy places. Mario is an excellent guide. We're thinking about taking another of their tours!!

"I loved It!!!"
Photo, culture, nature, history, and peace are things that live in this great experience. I like photography but had never taken a class. I learnt a lot with Bushman besides having spent an amazing d time. Eager to repeat it many times ... super recommended!

Amazing Tour-photography- Excellent Teachers!
Thank you for taking your time to share your knowledge with me. This tour is amazing, enjoying the wildlife in a Safe place, get the best moments in the Camera and my own memory, I am Totally glad with this experience!!!!

I highly recommend this tour!
We did both days and so glad that we did. Mario and Paulina were very professional and showed us some incredible places! We had done a photo tour before that we thought was amazing until this one! It was truly an unforgettable experience and would love to do another tour with Bushman Photography and Mario and Paulina on our next visit!

Incredible experience. One of the best tours I have taken!

I would recommend this tour to anyone and everyone. The staff are well organized, friendly, attentive, professional, positive and obviously passionate for their art. They provide one on one attention with an easy and understandable explanation of the features and settings of the camera. The sites visited are unique and interesting and looking at them through the lense gives you a whole new perception of the world around you. Snacks and food provided were of high quality and delicious. I left the tour with a sense of accomplishment and a new life skill.

Thank you so much for the incredible experience. I hope to be able to participate in this experience again in the future!

Unforgettable!

I had never participate to a photo safari and it was an unforgettable experience, how to perfectly combine the discover of amazing places with photography, Mario the guide super nice showed us how to handle with a profesional camera and brought us to the best places in Tulum, cenotes, ruins, the lagoon at the sunset .. amazing food at coqui coqui, he also took pictures of us which sent us the day after! excellent service, totally recommended!